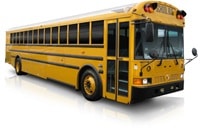 We are proud to offer quality solutions that can increase profit while focusing on student safety.
Our school bus tracking system provides all the tools you need to maximize fleet efficiency and respond to safety concerns. Get reports in real time, keep a record of equipment functionality, and receive detailed data on fuel levels and vehicle speeds in one convenient cloud based application. Student ridership is also easily trackable, giving you vital information for bus scheduling.
Safety is always a number one concern for schools and parents, so our system allows you to monitor driver behavior and performance on the road. We let you know where your fleet is at all times so you can quickly respond to breakdowns. Plus, you can offer peace of mind to parents and school officials with up to the minute notification about bus locations and arrival times via SMS, email, or web.
Request A Demo