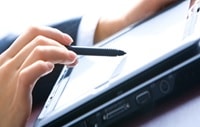 We utilize cutting-edge Radio Frequency technology for our wide-range of solutions, allowing you to quickly locate assets, reduce inventory time and increase data accuracy
Everything from cars and trucks to smart-devices and supplies can be tracked through Radio Frequency Identification (RFID). Our products incorporate passive and active RFID into a single intuitive system, allowing you to scan a bulk of assets at one time.
Radio frequency technology makes your business more effective and efficient. The distance barriers that used to separate you from your fleet disappear. Save valuable time and money by managing your assets remotely. Reduce your risk of theft and enjoy the security of knowing where your assets are at all times with real-time physical inventory.
Request A Demo