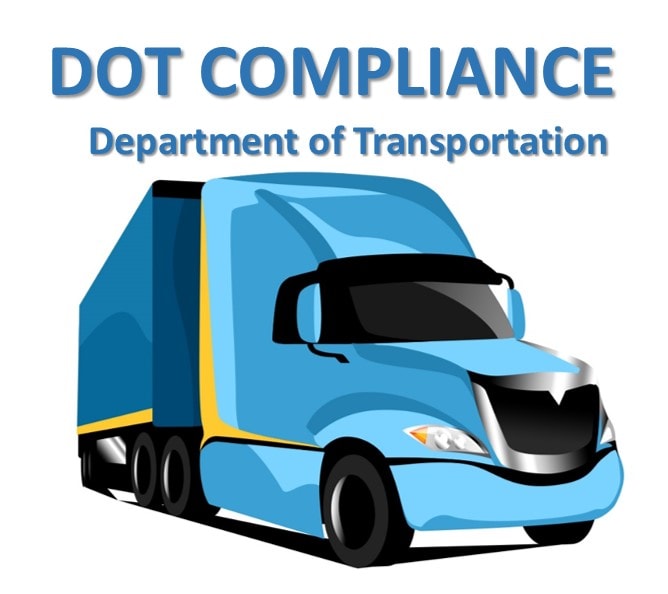 Why Fleet Companies Should Use The Fleet Management Software For DOT Compliance Reporting
In advanced societies, the governing body places a high level of importance on the welfare and wellbeing of their citizens. They show this by proposing and implementing statutes that keep people in charge of safety-sensitive services on high safety alert. One of such is the Department of Transportation compliance rule.
What's DOT Compliance Rules
DOT compliance rules are a set of statutes/stipulations that were provided by the US Department of Transport that serves as a manual of ethics for safety sensitive workers. This set of rules includes public and personal safety practices for these workers. These rules are expected to be implemented by the employers of safety sensitive employees in order to create a better and safer transportation industry in the US.
Why Fleet Companies Should Follow These Rules
A careful look at the components of the DOT compliance rules will invariably lead to the conclusion that safety is the priority of the US Department of Transport. It is a well known fact that every American life is unquestionably important to the country. Therefore, ordinances are implemented by the government to safeguard the lives of its citizens and avert loss of lives whenever possible. The compliance rule focuses its attention specifically on the exact people that are in control of the various means of transportation in the country and tries to make sure that these safety-sensitive employees are in the right state of consciousness at every point in time, especially when on duty as any alteration in the minds of these workers can be very fatal. The compliance rules also try to regulate the lifestyles of their workers for the safety of the general public.
The reasons why fleets should follow these rules include the following
Safety of the general public
Safety of the safety-sensitive employees
Preservation of human lives and public properties
Companies with low rate of accidents tend to get more patronage from the public, compliance with the DOT rules serve to totally eradicate accidents. Therefore, compliance with this rules can increase a company's revenue.
Most importantly, there are sanctions imposed on defaulters of these rules. These sanctions affect the employers and the employees.
The dynamic nature of today's environment generates impromptu problems that compel fleet managers to search frantically for lasting and timely solutions. These problems faced by fleet managers range from unexpected vehicle down time, wear and tear, increased fuel cost and slow arrival of vehicles to name a few. The discomfort caused by these factors can be overwhelming at times; therefore a fleet manager will be required to depend on some other means to cut down the effects of these problems. In order to achieve this, fleet managers are advised to invest in fleet management softwares.
Fleet management softwares are equipped with real time GPS for route/driver tracking, full CRM, smart auto-dispatch and customizable price tariffs. The software is suitable for companies with large or small fleets; it can also be used for transfers, deliveries and effective taxi services.
Unexpected vehicle downtime: The effect of vehicle breakdowns can be devastating to the overall reputation of a company, which could lead to low customer retention. Also repair of vehicles requires some money, if this is done continually; it'll result in lack of money for investment. By regulating maintenance, companies can drastically reduce unexpected vehicle downtime and successfully keep vehicles on the road.
Vehicle wear and tear: due to the fact that service and upkeep of vehicle requires a significant amount of money, it is advisable that companies limit wear and tear by scheduling timely upkeep and reducing unnecessary mileage. The best fleet management solutions provide fleet managers with a better way to accomplish vehicle maintenance schedules, keep track of maintenance expenses and also monitor fuel usage. They can also be used to monitor driver usage and behavior.
Fuel costs: the major expense for all fleet owners is related to fuelling their fleet. Due to te fact that fuel prices are on a continuous rise, it's advisable to invest in a fleet management system. Because by optimizing vehicle routes and Improving dispatch you can prevent your fleet from accruing unnecessary mileage and also cut down on vehicle expenses.
Fleet management solution also helps reduce overtime pay, slow arrival times. It is also an easy way for drivers to document and submit their logs to their fleet managers and FMCSA in a timely manner. Also, DOT compliance is a very important tool for fleet management solution for the following reasons;
Provision of log book manuals for drivers
Monitoring and control of idle time to comply with company policies and city policies on idling
Making rules and regulations for driver
Accurate fuel tax data collection
GPS navigation that includes commercial vehicle restrictions
Monitor aggressive driving with real time alerts and visual scorecardsnd
Collection of data required to properly report and log on Hours of Service rules
Hour of service rules, represent some of the most important factors to be considered before a vehicle can be proclaimed road worthy. The hours of service rules are proposed and directed by the Federal Motor Carrier Safety Administration. Fleet managers have been implored to log on and submit frequent reports of vehicles in their fleet at the end of every business week in order to aid regulation by the FMCSA
DOT Compliance Checklist for Fleets
Below is a checklist of things an employer should put in order before any safety-sensitive employee carries out a job;
Ensuring that all your drivers have copies of the DOT policies.
Keeping the results of pre-employment drug tests for all your drivers on file.
Making sure that drivers are not allowed to perform safety-sensitive tasks, including delivering loads, until and unless their drug tests have been returned and are confirmed to be negative.
Checking with your driver's former employers as to whether the driver had any drug or alcohol problems while employed, and keeping records of the findings on file in your office.
Putting all of your drivers in a random drug/alcohol testing pool. Remember, this pool must be separate from any pool you maintain for non-driver employees.
Conducting random drug testing of at least 50% of your drivers each year.
Randomly checking at least 10% of your drivers for alcohol abuse each year.
Making sure that these checks occur immediately after the drivers are notified that the tests will take place.
Having all supervisors complete the training program required by the DOT.
Immediately removing any driver in violation of DOT regulations from safety-sensitive duties.
Referring those drivers to approved substance abuse programs.
Ensuring that all required records relating to drug and alcohol regulations are on file and can be retrieved at any time.
Hours of Service Rules
Drivers of large heavy trucks for commercial purposes have the most responsibility while on the road. The biggest concern is safety. Therefore, the main reason for hours of service regulations is to keep fatigued drivers off the road. These regulations ensure that drivers stay awake and alert while driving by placing regulations that limit when and how long you may drive. This could also reduce the possibility of driver fatigue in the long run.
Compliance with these hours of service rules is mandatory for every driver of a commercial motor vehicle [CMV]. The FMCSA defines CMV as a truck, truck tractor with a trailer that is involved in interstate commerce and
Weighs 10,001Lbs [4,536 kg] or more, including any load
Has a gross vehicle weight rating or gross combination weight rating of 10,001Lbs [4,536] or more, or
Is transporting hazardous materials in a quantity that requires placards.
As a driver, it is important that you understand the different kinds of commercial driving activities you will engage in. commerce refers to buying and selling goods and services. It also involves the movement of these goods from place to place or the transportation of manpower from place to place in respect of a particular commercial activity. This can take place in two ways; within the boundaries of a state [intrastate] and the commercial activity can transcend the borders of a state making it an interstate business. The hours of service limits are mostly binding of interstate drivers.
These hours of service regulations are focused on the time and duration of commercial driving by placing specific limits on the amount of drive time and the total amounts of hours a driver can work before they are no longer permitted to drive a commercial motor vehicle. A driver must follow three maximum duty limits at all times. They are the 14-hour driving window limit, 11 hour driving limit, and the 60-hour/7-day and 70-hour/8-day duty limits.
14-Hour Driving Window
The 14-hour driving window limit places a limit on driving after 14 consecutive hours after being off duty for 10 or more consecutive hours. In this case, a driver is limited to a 14-hour work period regardless of any kind of break taken by the driver during the 14-hour period. Within this 14-hour window, he driver is allowed to drive for only 11 hours but this will be limited if 8 hours has passed since the driver's last break/ sleeper berth period of 30 minutes. Once a driver has worked for 11 hours, he's not allowed to drive for another 10 hours.
60/70-Hour Duty Limit
This limit is set upon duration of 7/8 days respectively. Here, the oldest day's hours drop off at the end of each day, therefore the present day becomes the newest day of the driver's 7/8 day 60/70-hour work duration. Drivers that work for companies that do not operate vehicles on a daily basis are not allowed to drive a commercial motor vehicle after 60 hours during any consecutive 7 days and you cannot handle any commercial driving until you have had enough off duty hours that would amount less than 60 hours on a cumulative scale. If a company operates it commercial vehicles every day, the driver has to make use of the 70-hour/8-day schedule. This implies that you are not allowed control of any commercial motor vehicle after you've worked for 70 hours for any 8 consecutive days. Once this limit is hit, every commercial driving activity stops until the driver has had enough off duty hours.
For a driver, on duty time refers to all time you are required to be ready for work or working. It includes:
The time spent at a plant, terminal or facility waiting to be dispatched
All time driving or in charge of a commercial motor vehicle in transit,
All time inspecting, servicing or conditioning any truck including fueling and washing at any time,
All time loading, unloading, supervising, or attending your truck; or handling paperwork for shipments;
All time taking care of your truck when it is broken down;
Basically, on duty time refers to all time spent working for a motor carrier, whether paid or not, and all time spent doing paid work for anyone else.
Request A Demo